Choosing a headstone is a very important part of the funeral process. Your loved one's headstone will be there as a memorial for years to come, so you want the design and wording to mirror their personal taste as well as their past lifestyle.
At Sanctuary Memorials, we understand that it can be a bit overwhelming to choose an ideal headstone. That's why we help every mourner to make a decision that honours their loved one, celebrates their life, and provides a lasting memorial. Here are a few things to think about when making your decision.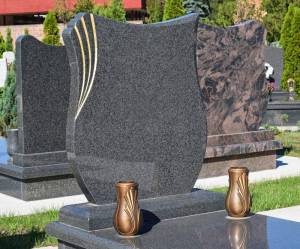 The Material
Gravestones come in many different kinds of material based on durability and visual properties. Check with your burial ground beforehand to see what types of materials are permitted.
Some of the materials you can choose between are:
Granite (the most common)
Marble
Limestone
Bronze
Granite comes in many different colours (like white, grey, black, red, pink, blue), which might give you more freedom to choose a design. Bronze is a very strong material to use, and marble is incredibly beautiful, but inscriptions might fade over time when exposed to the elements.
The Finish
The finish can be just as important as the headstone, but again, check with your burial ground as many churchyards have limited options. You can choose between:
Polished
Part-polished
Honed
Pitched
Other polishes
Choose a Design
When you are deciding on a design, there are many factors to consider. You'll want to decide if you want to put any images on the headstone. These may include pictures of the deceased or meaningful symbols. The font you choose for any inscriptions is also important to the aesthetic of the stone. Other design components you'll want to consider are:
Colour of the headstone
Shape, contours and moulding
Dimensions and size
Gravestones are usually available in 8 basic shapes: Stele, capped stone, tablet, sculptured cross, nameplate, pedestal with surmount, plaque and block. Sanctuary Memorials doesn't charge any additional fees for the custom artwork you want to use or the wording you decide upon. Many of our clients have an idea of the design they would like and bring in their own designs. We also don't charge by the letter so you can have the inscription you desire without worrying about a pricey word count.
When the time comes to choose the ideal headstone for your deceased loved one, you can rely on Sanctuary Memorials in Auckland.
Phone us on our toll free number: 0800 600 001 or fill out a contact us form.